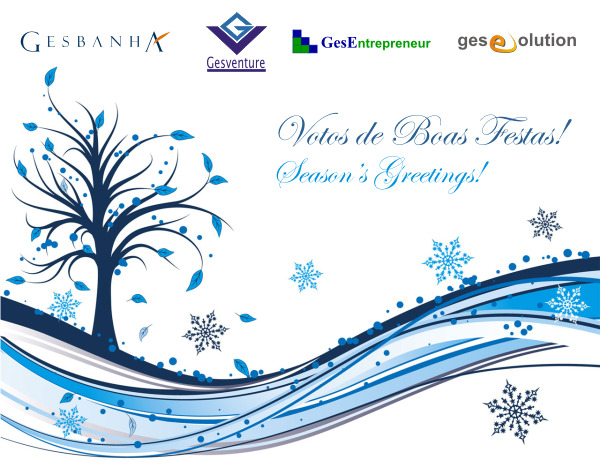 Mais um ano passou e de novo me dirijo neste período de festas a todos os que acompanham as nossas diferentes actividades. Foram vários os desafios com que nos deparámos este ano e que em equipa soubemos e vamos aprendendo a ultrapassar. Profundamente envolvidos na economia nacional, sentimos naturalmente as dificuldades dos nossos clientes e confrontámo-nos com cenários que nos obrigaram a repensar as nossas prioridades e a adaptarmo-nos às necessidades do mercado.
Os tempos não são fáceis mas é sobretudo a marca da esperança e do optimismo que pretendo incutir nesta mensagem, contrapondo a opinião geral que percepcionamos nos meios de comunicação e que reflectem as conversas desanimadas do quotidiano.
São vários os caminhos para um futuro mais promissor e como grande defensor do empreendedorismo – característica que todos me reconhecem – acredito que esse é o meio para que cada um de nós atinja os seus objectivos, quer sejamos  empresários, executivos de empresas, professores ou estudantes.
Como gestor e responsável por um grupo de empresas do qual muito me orgulho, apercebo-me cada vez mais de que tenho de contribuir com o meu maior emprenho para ultrapassar as dificuldades que se nos apresentam. À equipa que comigo constrói os objectivos a que cada uma das organizações que dirijo se propõem, não posso pedir menos do que o mesmo nível de exigência que a mim próprio exijo. Peço-o consciente das atitudes que como grupo temos de adoptar e que se traduzem em colocar a máxima competência em todo o nosso trabalho, em contribuir para a optimização dos recursos que empregamos e para proporcionarem uma organização mais flexível que saiba continuamente adaptar-se à realidade dos nossos clientes.
Importa ainda destacar o papel da solidariedade, marca indissociável desta quadra mas que temos de aprender a aplicar durante todo o ano junto dos que mais atenção precisam, sejam estes indivíduos a quem a vida não sorri, sejam organizações cuja actividade reflecte um esforço árduo por parte de empreendedores que lutam por ser bem sucedidos.
Porque o período é de festa, despeço-me não sem antes lhe desejar a si e aos que mais ama, votos de excelentes momentos partilhados entre a família e os amigos.
Francisco Banha
Presidente
———————————-
Another year has passed and again I'm addressing a few words in this festivities season to all of those who follow our different activities. We have faced many challenges along this year and, as a team, we managed to overcome or at least keep learning to do so. Deeply evolved in Portugal's national economy, we have felt the difficult times our clients are facing and we have worked with scenarios that made us rethink our priorities and adapt to new market needs.
Despite the difficult times, I would like to share with you a message of hope and optimism, balancing the main opinion being broadcasted by media and from testimonials we receive daily by our peers.
There are many ways to an economic upturn and as a great ambassador for entrepreneurship, I truly believe that there we can find the key to reach our goals, either we are business men, corporate executives, teachers or students.
As the main responsible for a group of enterprises that I am very proud of, I realize that I have to keep giving my most honest and strongest efforts in order to overcome all difficulties. To the team that supports me in the process of reaching the different goals of each of the organizations, I cannot ask less that I am currently asking to myself in terms of dedication. I ask it conscientious of the attitudes that, has a group, we have to take. This means being always very competent in our job, to contribute to the wise optimization of our resources and to work for a more flexible organization, capable of constantly adapting to our clients' needs.
Allow me to also enhance the role of solidarity, always reminded in this season, that we have to learn to apply all year long not only to the individuals in need but also to companies that reflect a great and hard work from its entrepreneurs who try to succeed.
Being this a jolly season, I wish you and your most beloved ones, all the best for your holidays and for the year to come.

Francisco Banha
President